Atlassian is building the world's tallest hybrid timber building in Sydney to house it's new headquarters
Australian tech giant Atlassian recently unveiled the plan to turn dreams into reality with the launch of the world's tallest Timber Tower idea. They will soon create the finest hybrid tower and Sydney will soon be home to the world's tallest commercial hybrid timber tower, as global software giant Atlassian unveiled its plans for their new headquarters.
Designed by New York firm SHoP and Australian architectural practice BVN, the building at Sydney's central business district is estimated to stand about 40 stories tall and boast a height of 180 metres. The building will also have solar panels and self-shading windows to reduce energy costs by operating on 100% renewable energy.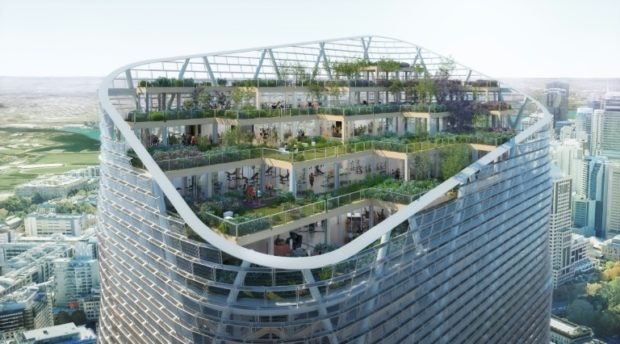 The company selected the design team following a global search. "To create a development that catalyzes the tech precinct for Australia and as the first anchor tenant, Atlassian will set the benchmark for sustainability for the precinct," BVN co-CEO Ninotschka Titchkosky told ArchitectureAU. The building will target a 50 percent reduction in embodied carbon and energy compared to conventional construction. Atlassian has also committed to operating on 100 percent renewable energy with zero emissions, by using energy efficient design, such as natural ventilation and planted terraces throughout the building, as well as generating green power on site through solar panels integrated into the building's facades, which will be a glass and steel exoskeleton tied to the structure.
Mass timber has increasingly been a construction material of choice as the world turns to sustainable designs to reduce the carbon footprint. "The space that we are building will be highly sustainable and highly flexible," says Atlassian co-founder and co-CEO Scott Farquhar. "It will be purpose-built for the future of work, for tomorrow's world, not today's."
Construction is slated to begin in 2021 and the building is scheduled for completion in 2025.
Forest Machine Magazine is written and edited by a forest professional with over 40 years hands on experience. We are dedicated to keeping you informed with all the latest news, views and reviews from our industry.
To support us you can subscribe to our bi-monthly magazine which is delivered to your door from only £30 per year.
Subscribe here